Posted 14th Jan 09 by Mr and Mrs Word in News
---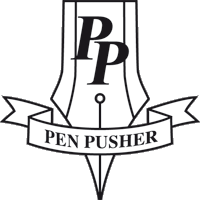 Well. Sort of.
We're happy to announce Pen Pusher Magazine, purveyors of new writing from all over the globe, will be printing the winning Fib entry in their Spring 2009 issue at the end of March. So now, not only will the winners receive a free festival ticket, but they will see their work in print. The runners-up will also appear in PP (but in smaller type, and probably a duller colour). Pen Pusher is a lovingly produced quarterly that can be found in London's independent bookstores – plenty more details and some quality writing can be found on their site.
Feeling incentivised? Good.
Just a reminder, we're picking two winners from each month in the run up to the festival, with the final 10 performed live at the opening of the festival and judged then and there by an expert panel from the world of literature, comedy, publishing and other glossy professions.
If you missd out, background to the fib can be found here; find some inspiration from our festival friends here; and when you're ready head over to the competition page here to show us yours.
No comments yet.
RSS feed for comments on this post. TrackBack URL
Leave a comment