Posted 20th Jan 12 by in
---
As you may have come to expect, this chilly month usually heralds a bit of a 'to-do' about the forthcoming London Word Festival – mail outs, streamers, marching bands, JG Ballard on a pole, that sort of thing. And judging by the number of lovely emails & submissions we've had, its not gone unnoticed amongst among a few of you.
So we thought best to send the carrier pigeons out with the news that, alas,  there shall be no 2012 festival. After four wonderful years, we wanted to take a break to think about the future, reflect on what we've done thus far and explore some new ideas.
We'll keep you posted on how things develop, and we hope we've not upset your forthcoming spring too much. If you do find yourself affected by lackoffestival stress disorder, or know some you is, help is at hand. Here's some advice from a man who not only knows a thing or two about waiting, but also insects, humans, insects and humans, and even insects and dinosaurs.
Posted 26th Nov 11 by in
---
Posted 18th Aug 11 by in
---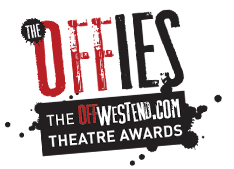 has been nominated in the Best Entertainment catagory of the 2011/12 Off West End Awards, or Offies. The Offies were launched last year aiming to recognise the wealth and ingenuity of independent theatre across London. The awards are run by OffWestEnd.com and the winners are chosen by a panel of theatre critics.
We're delighted to have made the shortlist from over 400 productions considered; and it's a privelege to be nominated alongside major theatres and pioneering fringe spaces. The winners are announced on 5th February 2012. So watch this space.
is a whispered, audio theatre piece for two at a time, set in a public library. We toured it through three London libraries across the festival: The Bishopsgate, Hackney Central and Senate House. More details on the production .
Further info on The Offies – including all other awards and nominations – can be found
Posted 17th Jun 11 by in
---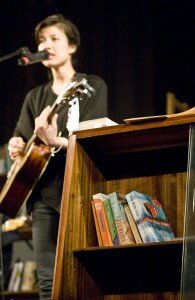 Emmy & Jack are taking the Dewey Decimal based perturbed library-variety show to Hull Truck Theatre on 9th July. Part of the Humbermouth Festival. .
Posted 19th May 11 by in
---
Sat 23rd May 2011. At Stoke Newington International Airport.
All photos by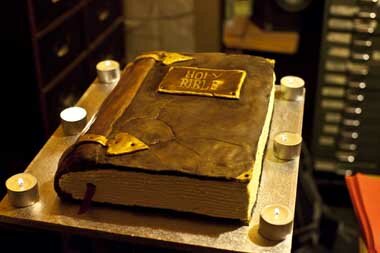 Posted 17th May 11 by in ,
---
's compliant, catalogued, captive audience. Each one
All mugshots by Bronte McConnell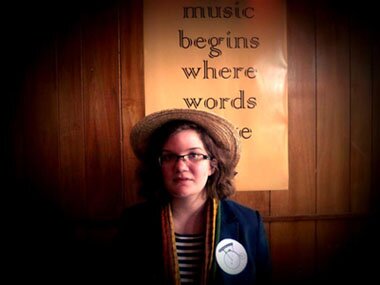 Thanks to everyone who made the festival closing show such a triumph. If you weren't there (we know), you can also:, the newspaper published live on the night by The Ladies of the Press..
Also available to
Posted 5th May 11 by in
---
Well, its been quite a month. We kicked off with an apology at , yummed down , played and peeled back the curtains on infamous East End strip joint . We (and men), celebrated the birthday of and spent a whole lot of time in . wrestled women, blew bubbles and a whole lot happened in between.
did a fantastic job of hosting our penultimate event at . And tonight sees the final event at before we totter off for another year to think about what happens next.
An incredible line-up wraps things up with & more. A bundle of three minute 'indoctrinations' hosted by and featuring a very big machine, all in the style of . Previous knowledge of the show not required. Wear a hat if you have one.
Posted 4th May 11 by in
---
Hi Kids.
So tonight we have have at the in Hackney. There's still tickets available, but we strongly advise you get down early. , they'll be plenty of stalls to check out and from the magazine.
The show proper kicks off at 7.45pm, don't be late.
You know the .
Posted 3rd May 11 by in
---
"I have conceived of , a literary exercise that explores the aesthetic potential of genetics in the modern milieu, doing so in order to make literal the renowned aphorism of William S Burroughs, who declared "the word is now a virus." In this experiment, I propose to address some of the sociological implications of biotechnology by manufacturing a "xenotext" – a beautiful, anomalous poem, whose "alien words" might subsist, like a harmless parasite, inside the cell of another life-form."
Xenotext creator and best-selling experimental poet heads up a night of extreme language play at Vibe Live, Brick Lane. Enter the surreal universe of (Will we see the return of The Wolf?), better yourself with avant-garde micro-lecturer and explore the boundaries of fiction and art writing with . All packaged and delivered by Master of Ceremonies , who may throw in a few univocalisms along the way.
Our resident DJ has been trawling through avant-garde audio archive for the choicest cuts of concrete poetry, sound art and textual innovations. Get ready…
Doors at 7.30pm. £6.50 adv (be quick), or £8 on the door.
Posted 3rd May 11 by in ,
---
We grabbed a chance to chat with Tim Etchells and Ant Hampton – makers of – to find out a little about what went into creating the piece.
Posted 30th Apr 11 by in
---
Well, it would seem the end of is fast approaching. Crikey. Where did the time go? , we celebrate the end with our 'The Prisoner' themed mini lecture series  at . We can't promise you'll learn anything useful whatsoever, but the line-up is pretty neat & we can promise it'll be a lot of fun.
Posted 28th Apr 11 by in
---
This week, is resident at and we're very pleased to announce additional sittings for evenings and bank holiday weekend.
After-work slots have been sold out for weeks, but we're opened 3 new evening sittings for. has been opened as an additional day, and a new pair will run on the hour all day on .
For full information & tickets, .
Posted 27th Apr 11 by in
---
Thanks to everyone who came to the last night, and what a night it was! A wiley fellow that , a good run, but taken down by in the final round.
We're back at tonight for , kindly developed with the support of the . With special guests . See you there…
Posted 27th Apr 11 by in
---
Monday 19th April. Rich Mix.
All photos by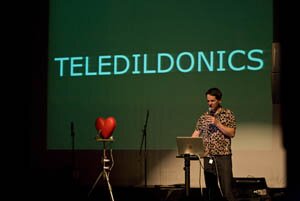 Posted 25th Apr 11 by in
---
Ding-ding! Round Two of . We've had two days to rest up, limber up and psychologically prepare ourselves for . Check out this short trailer we made in training:
from on .
In case you missed it, will be joining the amazing as a commentator for the match. Mr will be inviting to the ring & t, with referee keeping things clean. With motivation courtesy of the wonderful .
**Due to unforeseen circumstances has had to pull out of tonight's show, but will be replaced by Jerry Springer The Opera star **
Tickets are flying ahead of the fists. .