Posted 18th Aug 11 by Sam in News
---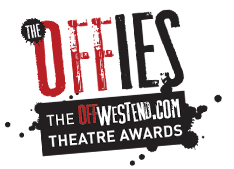 The Quiet Volume by Ant Hampton & Tim Etchells has been nominated in the Best Entertainment catagory of the 2011/12 Off West End Awards, or Offies. The Offies were launched last year aiming to recognise the wealth and ingenuity of independent theatre across London. The awards are run by OffWestEnd.com and the winners are chosen by a panel of theatre critics.
We're delighted to have made the shortlist from over 400 productions considered; and it's a privelege to be nominated alongside major theatres and pioneering fringe spaces. The winners are announced on 5th February 2012. So watch this space.
The Quiet Volume is a whispered, audio theatre piece for two at a time, set in a public library. We toured it through three London libraries across the festival: The Bishopsgate, Hackney Central and Senate House. More details on the production here.
Further info on The Offies – including all other awards and nominations – can be found here
No comments yet.
RSS feed for comments on this post. TrackBack URL
Leave a comment