Posted 19th Mar 10 by Mr and Mrs Word in News
---
If you're coming to tomorrow nights Keep Printing and Carry On at Stoke Newington International Airport, we highly recommend you get there early. Here's the why.
For the first 60 arrivals only, we'll be issuing you with a map to help navigate your way around the 'Prints Hamlet', along with a special Ration Book. As well as free goodies from the Bakery, collect your stamps and get yourself an Education at the Universette or grab a spade, get messy and dig for printery at the vegetable printing allotment.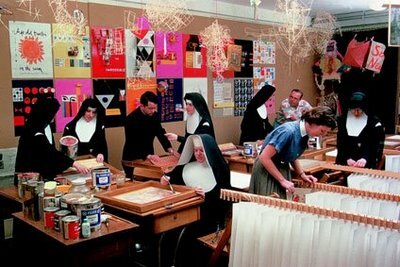 Performances proper start at 7.20pm. And for those of you hoping to catch the short film, Murray Macauley will kick things off with a whole section on the inspirational Sister Corita The Screen Printing Nun, followed by Joanna Neary. Darren Hayman will finish off the evening, and of course, the Henningham Family Press & the amazing screen printing Chip Shop will be in residence all evening for your printing pleasure.
They'll be plenty on offer to keep you entertained, as well as the chance to buy many of the original prints created on the night by the artists performing.  But times are hard and the cake is rationed – arrive early to avoid disappointment.
No comments yet.
RSS feed for comments on this post. TrackBack URL
Leave a comment