Posted 25th Mar 10 by Mr and Mrs Word in News
---
In advance of the premiere of his London Word Festival commission, Briggflatts Rewired, we asked virtuosic musician Leafcutter John a few questions about music, words and how he's 'rewiring' Basil Bunting's poetic masterpiece.
What were your initial reactions to Briggflatts?
I first listened to an audio recording of Bunting reading his poem. I was struck by the character of his voice. In some respects the sound of his words tell me more than the words themselves. I was a little worried about the length of the piece. But it's split into five parts which makes it easier to digest.
How did you begin to compose your new work, and what techniques/instruments are you using?
I started by improvising while listening to the recording of the poem. Over time I began to assemble instruments and sound sources that resonate with the different sections of the poem. At the concert I'll be using lots of non-traditional instruments like rocks, pebbles, and an instrument I invented called the Wrongamin. I'll also be using more common instrumentation such as electric guitar, drum and cymbals. All the sounds are fed into a computer program which I wrote to record, loop, and effect the sounds I make.
Basil Bunting held a lifelong interest in music and song, famously saying 'poetry, like music, is to be heard'. How does your work tap into the musicality of Bunting's poetry?
To me all sound is music, Bunting has an strong sense of rhythm so I use this as a base to build a sound world around. I tune the dynamics of my music to his. I think it's important that my music does not obscure his words and does not try to illustrate the text. I hope the final result will be something like a soundtrack.
Do you think there is potential in bringing together music and poetry? What are some of the problems you've faced in composing Briggflatts Rewired?
I have worked with a few different poets in the past (Jen Hadfield, Zena Edwards, and Roger McGough) and the biggest difficulty that I find is that listeners will always try to make out the words. Unless the poem is conceived as a song, you have to consider structure in a very different way and carve out space for both elements. If you're not careful, the power of the poem and the music can both be diminished.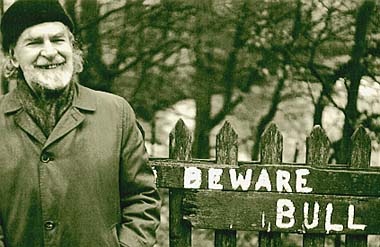 Leafcutter John premieres Briggflatts Rewired at Stoke Newington International Airport on Sunday 28 March. Support comes from Peter Finch, MacGillivray and Hannah Silva. Full info and tickets.
No comments yet.
RSS feed for comments on this post. TrackBack URL
Leave a comment