Posted 2nd Aug 10 by Marie in News
---
We are very pleased to announce further details of our collaboration with the young folk at the Roundhouse as part of this years Turning Point Festival.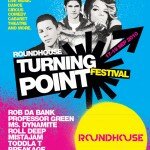 On Sunday Sept 19th, London Word Festival will host an all day jamboree of the best artists working with words, co-programmed and produced with the Turning Point creative team, all of whom are under 25.
Confirmed so far we have:
Laura Dockrill
Infinite Livez: Ross Sutherland, Joe Dunthorne & Tim Clare
Terry Saunders: Six & A Half Loves
Roundhouse Experimental Choir
Francesca Millican-Slater: Let Me Take You By The Hand
Hannah Silva
Roundhouse Poetry Collective
Eat Your Own Ears will host the Studio Theatre and they'll be plenty more announced in the run up. Tickets cost £8 in advance or £28 for a weekend ticket. Click here for more info.
Masterminded entirely by a creative team, all aged 25 and under, Turning Point is part of the Roundhouse's commitment to empowering young people and nurturing new talent.
No comments yet.
RSS feed for comments on this post. TrackBack URL
Leave a comment