our events
Sunday September 19th 2010, 3pm-10pm
London Word Festival & Turning Point present:
Laura Dockrill, Infinite Livez: Ross Sutherland, Joe Dunthorne & Tim Clare, Terry Saunders: Six & A Half Loves, Roundhouse Experimental Choir, Francesca Millican-Slater: Let Me Take You By The Hand, Hannah Silva, Roundhouse Poetry Collective + more TBC
Tickets £8 adv, £28 Weekend. Tickets available from the Roundhouse website.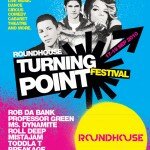 Masterminded by a creative team all aged 25 and under, Turning Point is part of the Roundhouse's commitment to empowering young people and nuturing new talent.