Posted 6th Dec 10 by in
---
Good afternoon Gentle Folk and Lady Women.We have news of something new for the .
Today sees the launch of the , an all new Willy Wonka style special ticket thing that at the forthcoming London Word Festival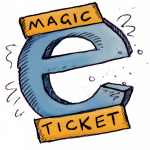 Buy the ticket now, and when the programme is announced in February, you selectyou would like to attend, you and your amigo will be furnished with a unique (and surprising) . Like Cheers, but without Ted Danson.
As a special ticket holder, you'll receive of the full programme, allowing you to select your events and book your tickets ahead of Joe Public and General O'Nsale.
All orders will receive a unique Magic-E Ticket, sent to you from London World Festival HQ.
Tickets cost £60 and can be purchased
Includes:
1 x Pair of Magic E-Tickets to Any LWF Show (April 2011)
1 x Pair of General Tickets to Any LWF Show (April 2011)
Exclusive pre-announcement of the full programme, when your show selections will be made.
No comments yet.